Softeng closed a 2016 full of success in the cloud
This 2016 has been a very intense and rewarding year for Softeng, our renowned success stories with major companies around the country, the growing success of our events cloud and award from Microsoft for the best partner Cloud of the year we consolidated in the 2016 as the reference partner cloud Solutions Microsoft.
A year of challenges

We started the year by earning the trust of major companies and facing a major cloud projects both Azure and Office 365 in which we could show the best of ourselves as professionals. An effort that we have been rewarded in the satisfaction and confidence of clients such as Media Markt, Fiatc, Atmira, Cuétara, Volotea, Grefusa, Venca and many more who have trusted Softeng as its partner in the Microsoft cloud.
One of our key projects for FIATC we had the opportunity to publish the case study in which IT director explained satisfaction about the experience working with Softeng and the reasons why we were elected.
Our events, meeting point for professionals

For several years we celebrated events on cloud solutions for Microsoft both in Barcelona and Madrid. Events are aimed at business decision-makers who besides being able to attend interesting talks, have the opportunity to network with other guests and to exchange experience with specialists doubts and Microsoft both as Softeng.
After 10 successful editions with high ratings in the polls and only a month to celebrate a new edition , we are proud to say that our events have become national reference and indispensable to keep up with the solutions in the cloud Microsoft appointment.
Final flourish
To close a year of great achievements last October Microsoft gave us the award for Best Cloud Excellence Partner of the Year, an important award that recognizes the Redmond company Softeng as the best partner for its Cloud expertise, experience and excellence of its services and projects in the cloud with Office 365 and Azure.
The award ceremony took place at the Microsoft Summit, an annual event that brings together the leading companies, partners and Microsoft technology experts in Spain to analyze the keys to digital transformation.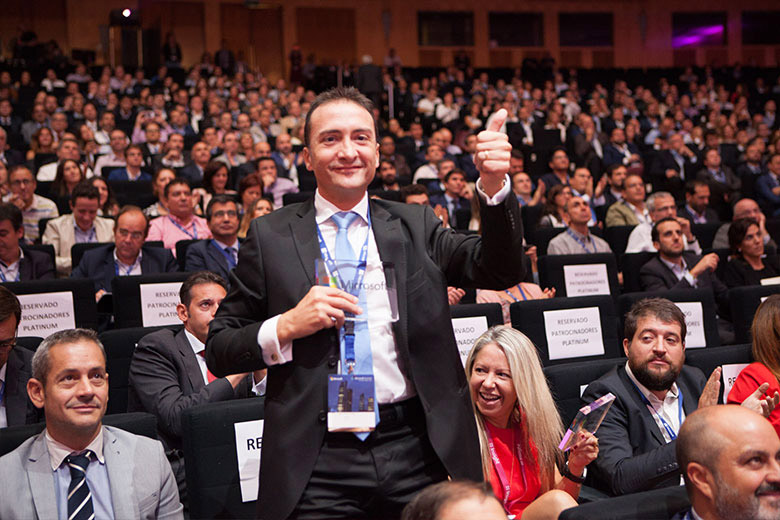 These milestones confirm the successful growth of Softeng, consolidating our preferential positioning in the cloud. We close this 2016 with historical results and prepared to continue driving this 2017.
THANK YOU! our customers for the trust they have placed in us, to Microsoft for recognizing our professionalism and our team for the effort they make every day to reinforce the seal of quality and excellence of our solutions.
We wish one very successful 2017!
return...