Solutions for your Softeng and Azure company
In Softeng we offer you a comprehensive cloud strategy customized according to your needs, helping you to securely manage and connect your local infrastructure with the servers and services you decide to have in the cloud, so you can make the change gradually and smoothly.
Below we detail the solutions with which Softeng and Azure can help your company, based on the most appropriate scenarios to start using infrastructure services in the cloud:

Applications in obsolete hardware

Upload to the cloud applications that you have on obsolete or unsecured physical servers, also avoiding maintenance, energy and hardware investment expenses. In this way, additionally, you will increase the reliability of your applications.

Extend your network in the cloud

If you need to expand your company's network with new servers, with Microsoft Azure and our help, you can do it in a simple way, creating a section in the cloud and connecting it securely to your local network.
Virtual network technology in the cloud is an imperceptible extension of your data center that allows you to take full advantage of Azure's reliable and scalable infrastructure, combined with your local infrastructure.

Scalability for your applications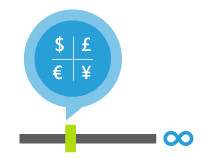 If your business application has to respond to variable and / or unpredictable activity peaks, with Microsoft Azure you can quickly provision new servers in the cloud, which can grow or decrease in number and capacity as needed at any time, paying only for their actual use .
In addition, Azure provides features that help you better understand the status and availability of your applications through metric panels of status.
Storage, backups and recovery from disasters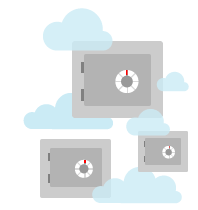 Microsoft Azure provides economical solutions in the cloud for storage, backup and recovery. Enjoy the economic benefits of cloud storage without compromising performance, regardless of the type or volume of your data.
If you need more storage:

Microsoft Azure provides you with secure and unlimited file storage, avoiding investment in disk booths and backup systems. You can start with very little storage capacity and increase it as your data grows, paying only for the storage that you are actually using.

If you need protection against disasters:

It is possible to configure solutions to protect the availability of your applications against failures of all kinds (network connectivity, unwanted modification or deletion of data, hardware errors ...), thus ensuring the continuity of your business.

If you pretend to forget about the backup tapes:

The services of Backup in the Azure cloud allow your company to protect at low cost the data of your local servers, being able to recover them of simple form in necessary case.
In addition, the geographic replication capacity of cloud services offers the redundancy of data between regions to guarantee access to them if a local disaster occurs, always guaranteeing the availability of your files.
Great calculation power at low cost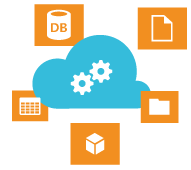 In case of high needs for business applications such as SharePoint, SQL Server or your ERP, you can have a fully compatible cloud infrastructure in minutes and with the size / capacity you require at any time, without the need to make advanced investments in hardware and licenses (in the cases of SharePoint and SQL Server), also avoiding maintenance costs.
Test environments

Your company can count on the infrastructure of Microsoft Azure to deploy development laboratories and tests in the cloud in a matter of minutes, during the time that you require and without the need to invest in assets.