Softeng Microsoft awards the prize "Cloud Partner of the Year Excellence"
It gives us immense pride and a great honor to announce that Microsoft has awarded Softeng with Cloud Excellence Partner of the Year Award !!
With this important award, the Redmond company Softeng recognized as the best partner for its Cloud expertise, experience and excellence of its services and projects in the cloud with Office 365 and Azure.
The ceremony took place on 5 October in Madrid during the Microsoft Summit, an annual event that brings together the leading companies, partners and experts in Microsoft technology in Spain to analyze the keys to the Digital Transformation.
The most awaited moment ...

Following the Keynote opening Pilar Lopez, President of Microsoft in Spain, who noted that Azure is the main enabler projects Digital Transformation step was given to the Awards ceremony Partners, a few awards that Microsoft has recognized first place the good work of many partners in the categories "Productivity", "Smart Cloud", "Personal Computer" and "Licensing".
And finally came the most anticipated moment! The prizes for the best partner of the year in which Microsoft delivers the award to Softeng Best Partner of the Year Cloud Excellence for, according to textual words of Microsoft, "be aligned with the strategy company, focus on cloud transformation of all its transactions with customers and the many important projects closed very satisfactorily with complex customers. "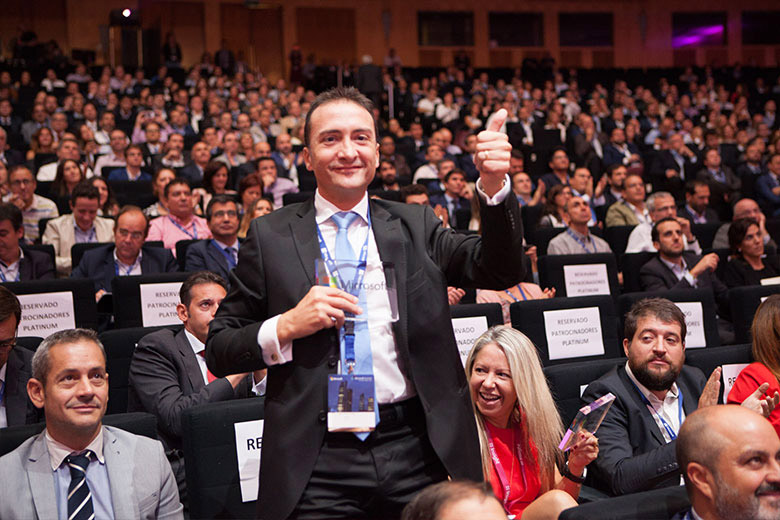 In the words of Carlos Colell, CEO of Softeng, "It's been an exciting day receiving the award from Microsoft to Softeng as Partner of the Year Cloud !! I want to thank each and every one of the people who are part of this great team we are in Softeng, our customers have opted for us and Microsoft for having always believed in our company and have valued our successes and spectacular work done to date. really, thank you all !!! "
This award recognizes our extensive experience and strengthens our leading position as specialists in digitally transform businesses using the cloud through Microsoft Office 365 and Azure, motivating more than ever to continue to provide excellence in our services and solutions.
We appreciate the achievement of this award to our team, customers and Microsoft. To all of them THANK YOU!
return...