The process

Development is iterative and incremental manner. Each iteration, called Sprint, is prearranged between 2 and 4 weeks, resulting in a version of the software with new features ready to be used. In each new Sprint, is adjusting the functionality already built and added new features always prioritising those that provide greater business value.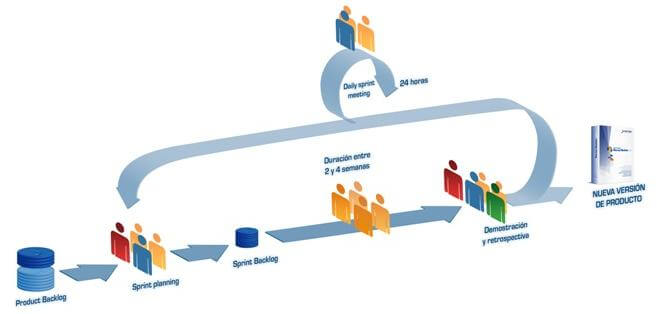 product backlog

:

Set of requirements demoninados stories described in non-technical language and prioritized by business value, or which is the same, by return on investment considering their benefit and cost. The requirements and priorities are reviewed and adjusted during the course of the project at regular intervals.

Sprint planning

:

Meeting during which the Product Owner presents the stories of the backlog in order of priority. The team determines the amount of stories that can undertake to complete in the sprint, in a second part of the meeting, decide and organize how it is going to get.

Sprint

: iteration of fixed duration during which the team works to make the stories of the product backlog that has committed itself, in a new version of the fully functional software.

Sprint backlog

: list of the tasks necessary to carry out the stories of the sprint.

Daily sprint meeting

: Daily meeting of maximum 15 minutes. in which the computer is synchronized to work in a coordinated manner. Each Member says that he made the previous day, that will do today and if there are obstacles.

Demo and retrospective

: Meeting to be held at the end of the sprint and in which the team presents stories achieved through a demonstration of the product. Subsequently, in retrospect, the team analyzes what did well, what processes would be improved and discusses how develop them.
Roles

In Scrum, the team focuses on building quality software. The management of a project Scrum focuses on defining what are the features which must be the product to build (what to build, what not and in what order) and overcome any obstacles that could hinder the task of the development team.
The Scrum team consists of the following roles:

Scrum master

: person who leads the team guiding you to make the rules and processes of the methodology. Manage the reduction of constraints of the project and works with the product owner to maximize ROI.

Product owner (PO)

:

Representative of lso shareholders and customers who use the software. Focuses on the part of business and is responsible for the ROI of the project (deliver superior value to money). He moved the vision of the project team, formalizes the benefits in stories to incorporate into the product backlog and reprioriza them on a regular basis.

Team

:

Group of professionals with the technical knowledge and to develop the project jointly carried out stories involving the start of each sprint.