What is it?

Scrum is an agile and flexible methodology for managing software development, whose main objective is to maximize the return on investment for your company (ROI). It is based on first build the functionality of greater value for the customer and on the principles of continuous inspection, adaptation, self-management and innovation.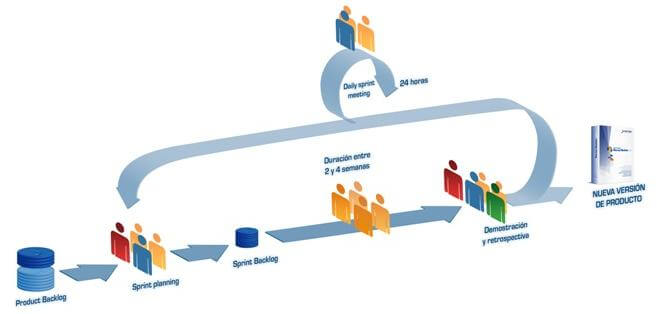 When is it used?

With the Scrum methodology customer gets enthusiastic and committed with the given project which sees it grow iteration to iteration. Also lets you anytime re-align software with your company's business objectives, since you can enter priority or functional changes at the start of each new iteration without any problem.

This methodical work promotes innovation, motivation and commitment of the team that is part of the project, so the professionals are an enabling environment to develop their abilities.
Benefits
Fulfilment of expectations

:

client establishes expectations indicating the value that brings each requirement / history of the project, the team considers them and with this information the Product Owner establishes their priority. On a regular basis, in the demos Sprint Product Owner verifies that indeed the requirements have been met and transmits is feedback to the team.

Flexibility to change

:

High capacity of reaction to changes of requirements generated by customer's requirements or market developments. The methodology is designed to adapt to the changes of requirements involving complex projects.

Reducing the Time to Market

: The client can start using the most important features of the project until it is finished completely.

Higher quality software

: The methodical work and the need for a functional version after each iteration, helps to obtain a higher quality software.

Greater productivity

: He is achieved among other reasons, due to the Elimination of bureaucracy and the motivation of the team that provides the fact that are self-employed to organise themselves.

Maximizes the return on investment (ROI)

: Software production only with benefits that provide higher value business thanks to the prioritization by return on investment.

Predictions of time

: Using this methodology the average team speed is known by sprint (so-called points history), so it is consequently possible to easily estimate for when there will be a particular functionality that is still in the Backlog.

Risk reduction

:

 The fact to carry out more value features first and know the speed with which team advances in the project — clear risks effectively early.
If you want to learn more about Scrum, see here is how the process and roles involved.