Descubre las novedades de Portal Builder 2016 R2
10/20/2016
published by: Softeng
Softeng Portal Builder is a productivity platform in the cloud (Microsoft Azure) that helps you to promote your business through the web, making it a profitable site and how does it help you? Getting more opportunities to obtain a greater number of visits to your web without investing in advertising, offering autonomy to easily manage your site and increasing productivity by allowing you to easily update content from the website. In this post we tell you the most interesting news coming in this update:

New in Release
The new version of Portal Builder features usability enhancements and user experience to help you create and manage your site with greater autonomy and productivity. Here we detail the most relevant:
Smart Links
With this new feature you can enhance the most important pages of the web. The SmartLinks help you enrich texts with links to web site pages or external pages. This functionality Portal Builder analyzes a text and automatically converts certain words or phrases relevant links.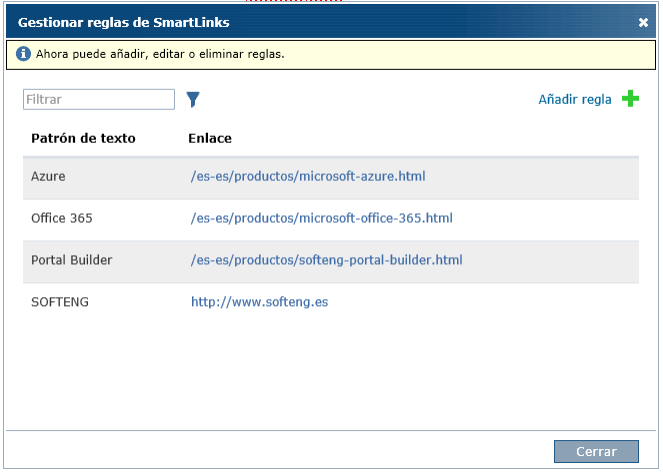 The words or phrases up to you!
Porta Builder gives you the ability to manage and create rules of words from these simple steps:
Think of words or phrases representing the main concepts, business areas, products or messages and values ​​you want to promote.
Choose the landing pages you want to promote.
Set your rules SmartLinks.
You can manage rules using Portal Builder to include words or phrases candidates have a link. As simple as setting for a text pattern, the link Portal Builder suggest whenever analyze a text.
Comparator content versioning
Have you ever doubted what changes will you publish or do not know what are the changes you have made a colleague? Now you can easily clear these doubts !! Version comparison allows you to:
quickly review the changes you are about to publish.
Easily detect what you've added and what you have taken.
See the changes that have been made in a content throughout its history.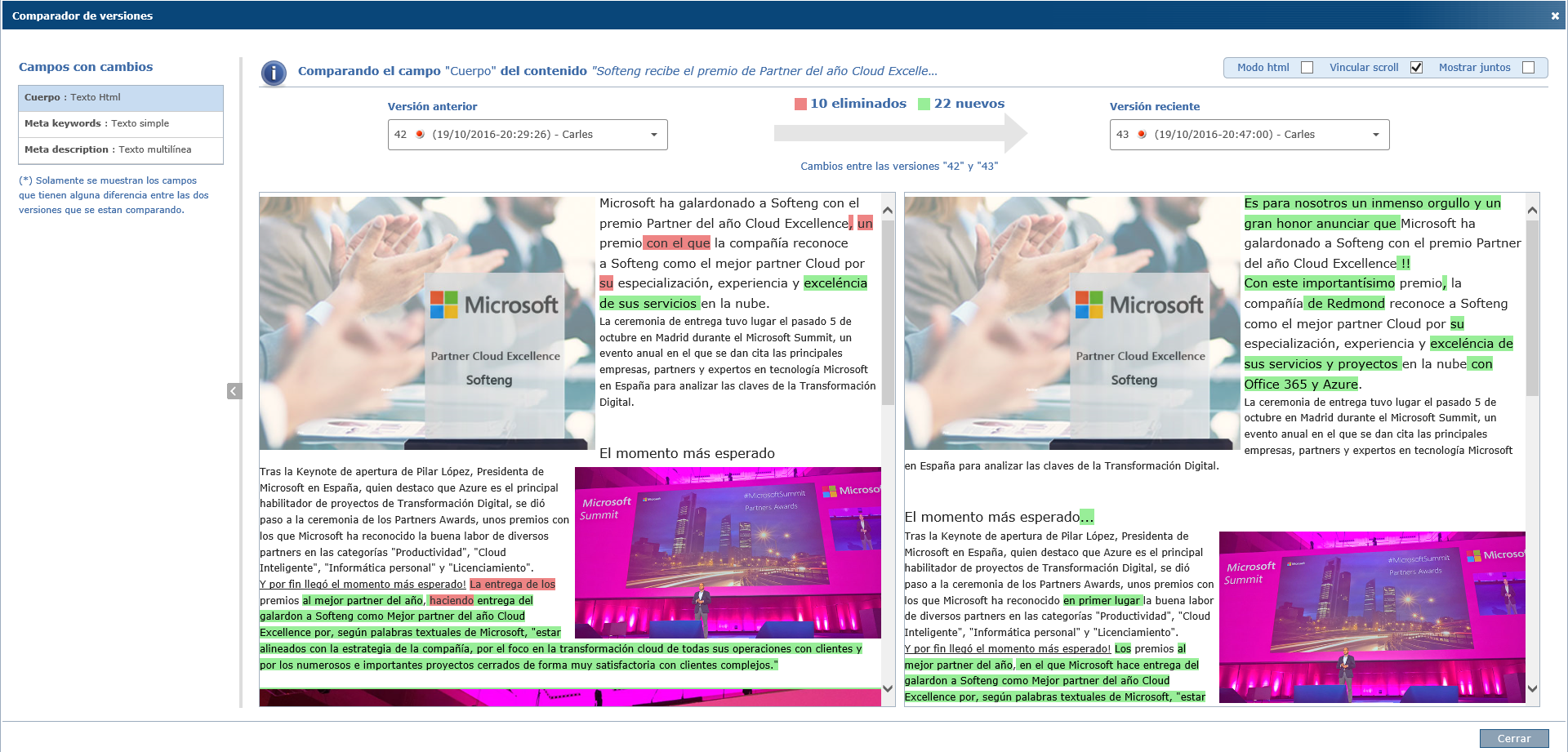 In addition, the comparator you can also:
Compare your craving different versions of content.
View the changes between versions field to field.
Compare the underlying HTML text fields.
Compare visual compositions.
Create content using Drag & Drop
With this functionality you have the possibility to improve your web easily. Drag and drop images from your desktop directly to the web to create, in a moment, content developed as news, products or transitions from one banner.
Improved user experience:
This list brings new features that improve the user experience, allowing users to be more productive:
Preview Pdf's: As with other content, now you can preview the PDF's directly from the document tree.
Paste multiple images from a Word document: Now Portal Builder lets you paste text from word including multiple images, besides keeping the position they have in the original document.
Improved editing blocks compositions: This new version includes improved visualization of the blocks that will facilitate the way to work with them.
Guided tours Help: This release includes "tours" interactive support for new features that will facilitate the adoption process of the product.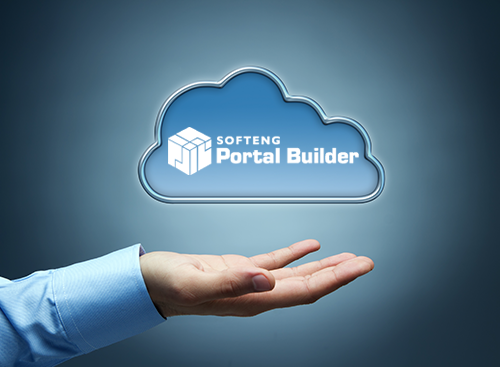 Cloud Benefits
Besides all the innovations that we have introduced and that will be unfolding over the next few weeks, thanks to Portal Builder in the cloud, our Premium customers enjoy all upgrades easily and automatically, without added costs licenses or migration.
Want to see what's new in action? Arrange a demo and discover them
<< back to blog